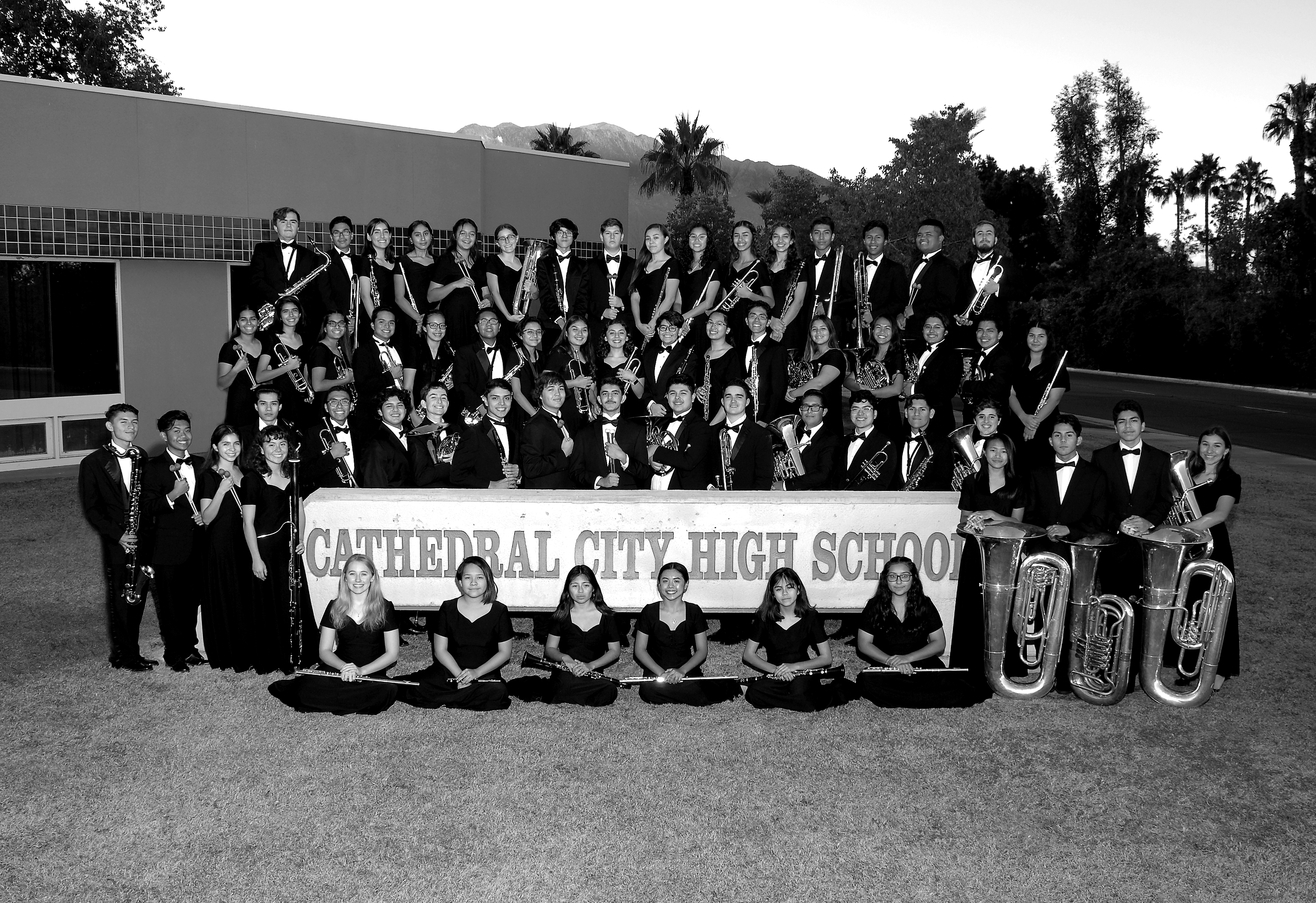 CCHS Symphony Band Ethos: "Developing The Artist":
"The artist has all the skills of the player and the musician, but the artist is also a creator. The artist comes to every rehearsal prepared in every way, and leaves the rehearsal with new goals. The artist loves great music making and loves to bring expression and inspiration to the performance. The artist has imagination, this is fueled by opportunity. That opportunity might come in a solo passage or in an approach to style that amplifies the intent of the piece. The artist is a collaborator with the other members of the ensemble, with the conductor, and the composer. The artist is intuitive and original, but only uses those skills in pursuit of the most beautiful performance possible. The artist evaluates whether a piece of music is good or not by how it is composed and what it expresses. The artist has the potential to evaluate the listener's perception of an average piece through an extraordinary performance. The artist loves music because music fuels his/her soul"
– Allan McMurray
The Cathedral City Symphony Band
The Cathedral City High School Symphony Band has earned a reputation as one of the finest symphonic ensembles in California. It is comprised of the most advanced musicians in the band program and performs literature of the highest quality, with the ensemble's approach to music making modeled after the leading collegiate wind bands. The Symphony Band has performed in such unique and prestigious places as The Sydney Opera House (2017), Carnegie Hall (2007), Walt Disney Concert Hall (2012 and 2009), Symphony Center, Chicago (2015), The Kennedy Center (2013), St. John's Smith Square (London 2010), Cardiff (Wales 2010), Holy Trinity Church (Stratford, England, 2010), Chateau Vaux-le-Vitcomte (Paris 2011), Bonn, Germany (2011), Heidelberg Castle (Heidelberg, Germany, 2011), and Munich (2011). In 2017, the Symphony Band was a featured ensemble at the 60th Annual California State Music Education Conference (CASMEC). In 2015 the Symphony Band won a commission for a new work for wind band, entitled "Lux Contrapunctum", by composer Brett Abigana. The work was world-premiered on April 5th, 2015 at Symphony Center in Chicago, Il.  In 2015, Cathedral City High School was awarded the Support Music Merit Award by the NAMM Foundation for excellence in support of public education. The CCHS Symphony Band has been recognized four times as the California State Level Winner for the Mark of Excellence National Wind Band Honors Project (2008, 2009, 2013, 2016). The Symphony Band represents every background, academic pursuit, and scope of the diverse student body at Cathedral City High School.
Symphonic Band Collegiate Conductor Series Clinicians
Prof. H. Robert Reynolds, USC
Prof. Richard Floyd, University of Texas, Austin (retired)
Allan McMurray, Distinguished Professor Emeritus, University of Colorado, Boulder
Dr. Eric Ewazen, Julliard School of the Arts
Dr. Gregory X. Whitmore, Mt. San Antonio College
Dr. John Climer, Director of Bands University of Wisconsin Milwaukee
Dr. Emily Moss – California State University Los Angeles
Dr. Kenneth Tse – University Of Iowa
Prof. Eric Schmidt – University Of Southern California
Prof. Frank Ticheli – University Of Southern California
Mr. Barrie Johnson – Northampton School Wind Band (United Kingdom)
Professor Jeff Boeckman (University Of Hawaii)
Dr. Jamal Duncan (University Of Arkansas)
Dr. Mitch Fennell (California State University, Fullerton)
Dr. Armand Hall (University Of Memphis)
Professor Gary Hill (Arizona State University)
Dr. Grant Linsell (Mt. Hood Community College)
Professor Kevin Mayse (Riverside Community College)
Dr. Kevin Sedatole (Michigan State University)
Dr. James Tapia (Syracuse University)