Matthew K. Howe – Cathedral City High School Director of Bands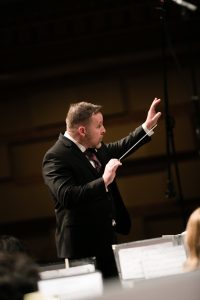 Matthew Howe is the Director of Bands at Cathedral City High School, a position he has held since 2014. He is also an adjunct instructor of Percussion Studies at College of the Desert in Palm Desert, CA . When not teaching, Mr. Howe also plays music professionally with several orchestras and jazz groups throughout Southern California. Mr. Howe received his Bachelor of Arts degree in Professional Music from Berklee College of Music ('95) in Boston, where he graduated cum laude. He earned his Masters of Music Education from Boston University ('12), where he also graduated with honors. He is a member of The Southern California Band and Orchestra Association (SCSBOA), the California Band Directors Association (CBDA), the Percussive Arts Society (PAS), World Association for Symphonic Bands and Ensembles (WASBE), The Western Band Association (WBA), and The National Association for Music Education (NAfME). He currently resides in Palm Desert, CA with his wife and daughters.
________________________________________________________________________________________________________________
Walt Simonsen- Trumpet Instruction/Marching Arranger
Walt is one of the most in-demand young musicians in the industry, and "This is Trumpetology," is just the latest example of his work. He has performed with a wide variety of musicians, including Steve Miller, Grammy Award winner Mary Mary, Bill Holman, Bob Florence, Bob Mintzer, Radiohead, Of Monsters and Men, and Alicia Keys. He has also performed in the 50th and 51st Grammy Awards and the 62nd Golden Globes. Recent notable performances include 2015 Playboy Jazz Festival with Gerald Wilson and many Sinatra 100 celebrations. His jazz arranging is featured on the upcoming major motion picture titled, "Going in Style" and he can currently be heard the Michael Buble album, "Nobody but Me."
As a marching arts designer, Walt has had the opportunity to work with numerous award winning marching bands, winter guards, and indoor drum lines. His music and visual arrangements have garnered first placed finishes in mutliple circuts. Additionally he has served as a show coordinator for several schools and was a member of the Pacific Crest brass staff from 2015-2017.
In addition to his performing, playing, and writing Walt is passionate and dedicated to sharing his love of music with young musicians. His community involvement includes the Harmony Project and YOLA. He is currently on faculty for the Colburn School of Music Jazz Workshop leading ensembles that have gone to the Monterey Jazz Festival for the past 3 years, and teaching private students that have recently won several Downbeat Awards. He's also proud to be a clinician and guest artist with local and national jazz festivals. Whenever possible, he loves to work with music educators and speak at SCSBOA and other conferences to help move the art form forward.
Walter Simonsen in an alum of the University of North Texas and the University of Southern California Thornton School of music. He holds his BM, MM, and DMA in Jazz Studies.
Walter Simonsen exclusively plays Stomvi USA trumpets & mouthpieces.
---
Abel Santos – Horn/Low Brass Instruction
Abel Santos has been involved with the Cathedral City High School program since 2004, where he coaches the French Horn and Low Brass sections of the music program and guest conducts with the Symphonic Band. Abel's musical experience started when he was taking piano lessons at the age of 5. His public music training started when he was in the 5th grade with percussion and gradually started learning how to play brass instruments. His first brass instrument was the Euphonium, where he won several honor band and solo & ensemble honors. In high school is when he picked up the horn, and stuck with it ever since, playing it throughout his present day life with many professional groups, college ensembles, and several studio ensembles. His current and past teachers have included Jim Atkinson, Paul Klintworth, and Lisa Cherry. Some movie, TV, and cartoon credits include feature film Igor, the TV ABC family series Greek, and the Nickelodeon cartoon The Fairly Oddparents. His musical marching experience includes performing, coaching, and judging throughout the country. Abel was involved with the Palm Desert HS marching band as a student, Riverside City College as a student, and several drum corps throughout the summer. His teaching experiences have included several high schools, drum corps and private lesson students throughout the country, with groups such as Carolina Crown D&BC, Jersey Surf D&BC, Upland HS, and Palm Desert HS. His judging experience was with the Southern California Band & Orchestra Association, where he judged marching ensembles for two years before dedicating most of his life to his education. Abel judged both the visual & music captions in that circuit. Abel currently resides in Long Beach, where he is a part time student at CSU-Long Beach.
_____________________________________________________________________________________________________________________________________
Nicholas Casillas – Saxophone Instruction
Nicholas Casillas holds bachelors and masters degrees in music from UCLA. He currently teaches at Paul Revere Middle School, Cathedral City High School and The Claremont Community School of Music. In addition he maintains a small private students with students ages 10 to 65.
As a performer he is comfortable in various musicals setting. Currently he performs with the 210 Saxophone Quartet, The Allan Wasserman Jazz Ensemble, The Cucamonga Collective,The Westside Collective, The Swing Riots, and Whats Next Ensemble. All of these groups work closely with local composers. They encourage the programming of new music in performance situations.
Future performance engagements include such diverse venues as Pizza Restaurants, Coffee Shops, Wedding Ceremonies, LA Valley College's Recital Series, and the Sherman Oaks Street Fair.
---
Joyce Lawrence – Oboe/Flute Instruction
Joyce Kelley Lawrence began her musical training on piano at the age of two and represents the fourth generation of professional musicians in her family.  She has taught and played music professionally for over 20 years with a focus on flute and oboe. Joyce is a graduate of UCLA where she earned her Bachelor of Music degree with a specialty in performance on oboe and flute studying with Sheridan Stokes, Jim Walker, Earl Dumler and Barbara Northcutt.  While in college she had the honor of being both principal flute and then principal oboe of the prestigious American Youth Symphony under the direction of Mehli Mehta and was honored by winning awards in both flute and oboe, including the Pasadena Competition.  After taking a year to study with different professionals across the country, she went on to work on her Artist's Diploma at USC with the Dean's Scholarship and played with the USC Scholarship Woodwind Quintet.  While attending USC her professional performing career began to flourish. Joyce has performed professionally all over Southern California.  She was a member of the Opera Pacific and performed regularly with the Pacific Symphony, San Diego Chamber Orchestra, American Ballet Theater, Santa Barbara Symphony, Royal Ballet as well as many other orchestras and shows.  She has freelanced in the recording studios for major motion pictures, records and television.  Some of these credits include Godzilla, Quest for Camelot, Final Destination as well as the TV shows Superman and Batman.
Prior to, and while raising three children, Joyce developed a private teaching studio.  Over her professional career this has been the most rewarding experience for Joyce.  She has taught students from the age of three to adult and enjoys watching the growth of her students both musically and individually.  Joyce's success is driven by her vibrant love of music and the desire to pass this on to others.
_________________________________________________________________________________
Juan Gallegos- Clarinet Instruction
Juan Gallegos is currently Adjunct Professor of Music at Riverside City College and Clarinetist with the Santa Barbara Symphony. As an active freelancer, he regularly joins the clarinet section of the Los Angeles Opera, San Diego Symphony, Pacific Symphony, Long Beach Opera, Pasadena Symphony, and has previously worked with the Los Angeles Philharmonic. As a soloist, Juan has been featured on KUSC's Sunday's Live from LACMA, performed all over Europe as well as at the Sydney Opera Hall, and has been a performing artist for the International Clarinet Association premiering Brett Kroening's Fuego. He can be heard on several motion picture soundtracks including Star Wars, The BFG, Toy Story 4, Cars 3, and many more. As a conductor, Juan is also the music director of the Diamond Youth Symphony Orchestra.
________________________________________________________________________________
Anthony Huerta- Battery Percussion Instruction
Anthony Huerta is the current Battery Percussion Instructor at CCHS.  He is a full time marching percussion instructor in Southern California, a composer, arranger, visual designer, program consultant, clinician and author.  He is a former DCI World Champion Gold Medalist and WGI World Silver Medalist. Marching experience includes:
Blue Devils Drum and Bugle Corps
DCI 2009 World Champion Gold Medalist
Fred Sanford High Percussion Award
RCC Indoor Percussion
WGI 2009 Silver Medalist
Pulse Percussion
WGI 2008 World Finalist
DCI Open Class Experience:
Impulse Drum and Bugle Corps 2007
Yamato Drum and Bugle Corps 2006
Website – http://Clean-Beats.com
Virtual private lessons, distance learning programs and drumming resources.
______________________________________________________________________________________________________________
Sarah Culbertson- Front Ensemble/Symphony Band Percussion Instruction
Sarah Culbertson is the Front Ensemble Instructor for Cathedral City High School. Her experience includes one year of Blue Devils B, one year of Mandarins, and two years of Santa Clara Vanguard, where she was a DCI 2018 World Champion Gold Medalist. She recently completed her 3rd year at RCC Indoor Percussion. Her hobbies include playing jazz vibraphone and hiking. CCHS is the 6th school Sarah has taught at and is excited to continue to help the program grow.
______________________________________________________________________________________________________________
Jennifer Dean-Knapp  – Flute Instruction
Jennifer Dean-Knapp began her musical studies at the age of nine while she attended band classes at Palm Desert Middle School with Mrs. Karen Dorn.  She was drum major of both her middle school (PDMS) and high school (PDHS) marching bands as well as sectional leader of the flute section.  As a student, she performed frequently at both solo and ensemble festivals as well as band festivals with the Southern California Band and Orchestra Association (SCSBOA).  Ms. Dean-Knapp also had the opportunity to perform with the SCSBOA Junior High and High School honor bands on both flute and oboe (twice on oboe and once of flute) while she was in high school.
Ms. Dean-Knapp is currently in her ninth year as the Director of Instrumental Music at James Workman Middle School in Palm Springs, California. She received her Bachelor's Degree in Flute Performance and Music Education from the University of California, Los Angeles where she studied Flute with Sheridon Stokes (famous LA studio musician) and David Shostak (Principal Flute of the Los Angeles Chamber Orchestra). While at UCLA she performed with the UCLA Philharmonia Orchestra, UCLA Bruin Marching Band, UCLA Wind Ensemble and the UCLA Gluck Woodwind Quintet. In 2004 Ms. Dean-Knapp received her Master's Degree in Flute Performance from the University of Redlands where she was a Teaching Assistant for the Flute Professor, Sara Andon (Principal Flute of the Redlands Symphony and LA studio musician) and the Director of Bands, Dr. Eddie Smith. Ms Dean-Knapp recently finished her Administrative Services Credential at the University of Redlands and serves as the Secretary for the School Site Council at James Workman Middle School.
In addition to teaching her middle school students, Ms. Dean-Knapp also enjoys teaching her private flute students in the Palm Springs and Indio area, as well as providing clinician work for various schools in the Palm Springs and Riverside area.
XM has the seemingly lower monthly charge for service ($9.99), that basic rate does not include premium channels (add another $3.99) or allow for playing XM
Authenitc Green Tyler Seguin Jersey
on your computer (add yet another $3.99). Sirius's monthly rate is $12.99. However, all Sirius channels are included in that flat rate, and streaming on the Internet is
Premier Green Jason Spezza Jersey
free. Plus, Sirius has a "free month"
Authenitc Green Alex Goligoski Jersey
reward for subscribers who pay on an annual rather than a monthly basis. You can also purchase a lifetime subscription for $499. It should be noted that experts consider Sirius to be the real industry leader. Sirius was the first
Authenitc Erik Cole Jersey
to offer commercial free music. They are the only provider that broadcasts NFL games,
Premier Green Alex Goligoski Jersey
complete with pre game, play by play, and post
Youth Kari Lehtonen Jersey
game analysis.
Men Jason Spezza Jersey
They also have 24 hour (not 18 hour) customer service, and they have three satellites (not just two) to provide superior coverage.
Authenitc Green Shawn Horcoff Jersey
And while it's true that XM has
Premier Black Tyler Seguin Jersey
so far been the "more popular" choice,
Premier Black Kari Lehtonen Jersey
Sirius's recent
Premier Jason Spezza Jersey
exclusive contracts with
According to the company, the growth is being fueled by the rising demand for managed hosting, colocation, business continuity and disaster recovery services. success gaining market
Authenitc Alex Goligoski Jersey
traction in the current economic environment validates our value proposition and business model, said Debra Curtiss, vice president and general
Authenitc
Youth Bobby Smith Jersey
Green Jason Spezza Jersey manager for Peak 10 in Tampa. been successful here because we take the time to listen to our customers and develop tailored solutions that meet
Authenitc White Shawn Horcoff Jersey
their individual
Premier
Authenitc White Cody Eakin Jersey
Shawn Horcoff Jersey needs. Peak 10 said its strong local presence in Florida gives its customers the convenience, control and cost savings to maximize their technology investments,
Authenitc White Shawn Horcoff Jersey
adding that it has attracted companies such
Authenitc Black Neal Broten Jersey
as Allstate Financial and Siemens. is our mission to keep customers like Venus Swimwear and the Jacksonville Jaguars up and running 24 hours a day, 365 days a year, said Allen Skipper, vice president and general manager for Peak 10 in Jacksonville. are able to do this because Peak 10 owns and operates the most reliable, scaleable and secure infrastructure and network architecture
Authenitc Green Jason Spezza Jersey
on the market today. Peak 10 also operates data centers in Charlotte and Raleigh, North Carolina. Under the agreement, Peak 10 is providing hosting and managed services for Raleigh Durham International Airport's Oracle applications, which handle its payroll, accounting, and human resources information. The applications will be housed at Peak 10's data center facility in Raleigh, North Carolina. Read More
of people participate in rescuing and rehabilitation of cats,
Yeezy 350 Colorways Release
, in addition to caring for their own,
Kurt Warner Jersey For Sale
, but it definitely takes a special person to do that,
wholesale jerseys from china
, says retired veterinarian Somyr Perry. And no matter how your cats arrived home,
Cheap Yeezy New Release
, once they in,
2016 Yeezy 350 Boost
, they part of the family. According to data from a 2011 Harris Poll,
cheap oakleys outlet
, 91 percent of cat owners consider their pets part of the family,
Joseph Fauria Jersey For Sale
, and 60 percent frequently or occasionally buy them presents.15 Secrets to Better Work Life Balance4. You introverted and sensitive.By nature,
wholesale ray bans
, cats don need to be friends with everybody,
Cheap Andre Ellington Jersey
, and the same can be said of their owners. people I know live alone. And while I wouldn go so far as to call them loners,
cheap elite jerseys
, they tend to be content with an independent lifestyle,
Yeezy 550 New Release
, says retired veterinarian Somyr Perry. A 2014 study from Carroll University backs up this assessment. Researchers surveyed 600 college students and found that those who favored cats over dogs were more likely to be introverted. While introverts can be perfectly comfortable hanging around
Americans for Prosperity,
40% off Cheap Yeezy All Size
, a political arm of the billionaire Koch brothers,
discount jerseys sale
, has been working with Ald. Bob Donovan to force Milwaukee to hold a binding referendum on the proposed downtown streetcar project,
Cheap NCAA Jersey For Sale
, the organization's state director said Wednesday. "We have field staff in Milwaukee,
christian louboutin shoes
," David Fladeboe said. Americans for Prosperity's involvement,
2016 Cheap Adidas Yeezy
, first reported by the website Urban Milwaukee,
Cheap Jersey Online Store
, came as the Milwaukee Common Council on Wednesday voted 10 5 to back the $124 million streetcar project but to delay final approval until Feb. 10. The delay is to give United for Milwaukee,
cheap football jerseys
, an organization led by Donovan and Ald. Joe Davis,
cheap nfl jerseys
, a chance to collect the 31,
Authenitc NHL Jersey For Sale
,000 signatures needed under the state's direct legislation statute to compel a binding referendum on the project. Fladeboe said he has not met with Davis,
Mens NFL Jersey Paypal Online
, but that he and Donovan "talk from time to time." Donovan said he had reached out to Americans for Prosperity when the petition drive began at the beginning of January. "All I