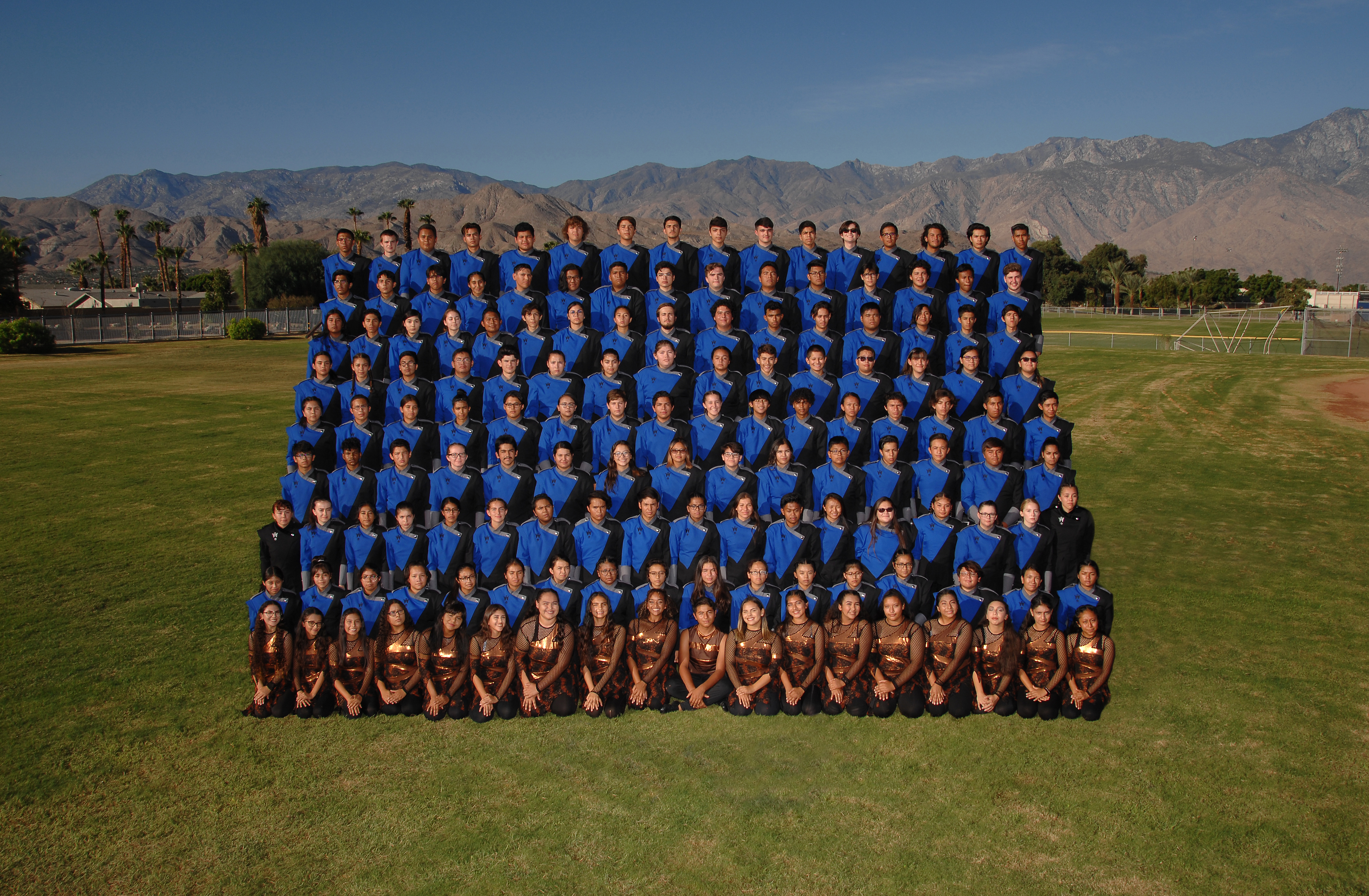 Incepted in 1991 and known as the "Royal Regiment," The CCHS Marching Band entails the wind instrumentalists, flags, pit section, and drumline; and is a performance-oriented ensemble designed for all new and returning students to the CCHS Band Program. The band performs at all CCHS home football games and in support of CCHS Athletics. The Marching Band spends time preparing for and participating in local parades, field show competitions, festivals, collegiate band events and community events. Another very unique aspect of the course is the opportunity to represent our school and community by participating in tours in California and across the United States. The CCHS Marching Band is well regarded as one of the Coachella Valley's finest marching units, and has garnered this reputation through our dedication to discipline, musicality, and overall performance excellence. The CCHS Marching Band has performed in such places as San Francisco, Washington D.C., The Rose Bowl (three times), Disneyland (two times), and on national television three times as a participant in The 2005 Chicago State Street Thanksgiving Day Parade, The 2007 Pacific Life Holiday Bowl Parade in San Diego, California, and the 2010 Hollywood Christmas Parade.
2018/2019 CCHS Marching Band Season Information:
2018/2019 Marching Band Individual Music/Guard Work Exam Schedule:
Week of August 24-28.
Week Of September 7-11.
Week Of September 21-25.
Week Of October 5-9.
Week Of October 26-30.- FINAL CHALLENGE
Challenge Exam Information: August.
All Music Is To Be Memorized.
Field Show Part One.
Measures – Beginning To End.
National Anthem.
Measures – Beginning To End.
All Stand Tunes.
Beginning To End.
Basic Technique:  (Tempo = 120 BPS)
All Warmups In Warmup Text Book.
Equipment Check For Points (See Course Materials Section)
Technique Metronome Tempo  – 100 – 120 Per Quarter Note/Or As Marked In The Piece
Four Reeds In Reed Guard.
Exemplar Marching Band Videos:
Related Links: